Tribest has always been a leading brand when it comes to kitchen appliances for healthy living. They have some of the award-winning juicers under their belt, and Tribest GSE-5000 Greenstar Elite is the best of the bunch.
According to some independent laboratory tests, this juicer can produce a drink with significantly more yield and nutritional values than other naming brands on the market.
It's a sophisticated masticating juicer that truly reflect Tribest's dedication towards new and innovative technologies.
However, before you get overwhelmed by the hype, let us review this Tribest Green Star Elite GSE 5000 juicer thoroughly today. It will help you understand whether it really stands out from the rest of its competition.
Before we do that, let's take a brief overview of the key features, pros and cons this juicer has to offer.
Tribest Gse-5000 Greenstar Elite Juicer Review
Key Features at a Glance
It has a twin-gear instead of a single auger
They have been produced using an exclusive Bio-ceramic and magnetic technology
It uses three-stage mastication ( that imitates human teeth
The juicer includes two unique (spring-loaded) outlet adjusting knob
Comes with four different screens (fine, coarse, breadstick, and blank screen)
A simple lever latching system puts together its components
A Brief Overview
Greenstar Elite Juicer GSE-5000 is one of Tribest's best-selling juicers with the most efficient technology built into it. Its advanced twin gears are a prime example.
Unlike single augers, they can create a bio-magnetic field to extract the highest nutrient and volume of juice possible. Again, the strength and durability of these stainless steel gears are unparalleled.
As a complete masticating juicer, it processes your fruits and vegetables in three different stages (crash, mix and press), just as humans have three types of teeth to perform 3 different functions.
When the juice reaches the outlet, its unique pressure adjusting knob comes into play. It works onto the pulp for one last time squeezing out every last drop of juice.
With a wide range of homogenizing accessories included in the box, you can quickly turn your juicer into a premium food processor. As an added bonus, you can switch between coarse, blank, and fine screens.
Tribest Greenstar Elite 5000 has a simple latching, and safety on/off system making it easier to operate.
Technical Specifications
Design: Horizontal
Type: Twin-gear cold press juicer
Item weight: 17.2 pounds
Housing material: Plastic (BPA free)
Chute Size: 1.5-inch
Motor Capacity: 110 RPM, 4 HP
Wattage: 190-watt
Product Dimension: 18.6 x 6.8 x 12.4 inches (L x W x H)
Pros Of Tribest GSE-5000 Greenstar Elite
Extracts more nutrients than other masticating juicers
All parts are dishwasher safe, so cleaning is quite effortless
Its stainless steel gears (with pocket recess) can produce the highest yield
Has unique spring-assisted pressure adjusters to produce the driest of pulp
It has simple latching levers and detachable cord storage making it easy to use
Extracted juice lasts up to 72 hours in refrigerators with minimal nutritional loss
Due to solid built quality, the juicer is comparatively quieter than its competitors
With included homogenizing accessories it can make a variety of delicious recipes
Its safety switch system prevents the juicer from starting if everything isn't set up properly
Twin steel gears feature nylon safety buffer to prevent steel flakes from entering into the juice unintentionally
Cons Of Tribest Greenstar Elite 5000
It is one of the most expensive masticating juicers on the market
The feeder chute is narrow; you have to chop your produce into small chunks
Due to slow processing speed, it will take some time to prepare your juice
Its juice container capacity is only 28 oz. which is below average (32 oz.) in its category
Let's Learn the Details About Tribest Greenstar Elite 5000 Juicer
1. Additional Juicing Screen
The Tribest GSE 5000 juicer comes with a variety of accessories that allow you to customize the amount of pulp in your juice. It has a fine (blank) homogenizing screen as well as a coarse control juicing screen, which can minimize and increase the amount of pulp, respectively.
2. De-Clogging Capabilities
Tribest Greenstar Elite 5000 has unique spring loaded outlet adjusters that can control the required amount of pressure depending on the hardness of produce. Due to this, fruits won't get clogged up inside the juicing chamber and the juicer will be able to eject pulp efficiently. This will allow you to handle a wide variety of produce without having to stop juicing in the middle of a session.
3. Exclusive Technology
Tribest GSE 5000 stands out from the crowd in that it uses cutting-edge technology. Its twin gears are made of bio-ceramic material, which can use the kinetic force of rotating gears to generate a unique (far-infrared) wavelength.
This allows for natural oscillation of the water and all organic elements in your fruits, helping it to obtain the most nutrients from them. The magnetic effect also helps delay oxidation to such an extent that juice remains fresh for 72 hours in a refrigerator.
4. Build Quality & Design
Except for the juicing screen and twin gears, all parts that make up the construction of this juicer are solid plastic. According to the manufacturers, these plastics are all BPA-free.
Both the twin-gears and juicing screen are made in combination with heavy-duty nylon and rust-resistant stainless steel. Because of these high-grade durable materials, this juicer can serve its users for many years in the future.
5. Pocket Recess And Cutting
The innovative twin gears with their sharper points are quite efficient to process whatever produce you throw at them. The unique pocket recesses on the gears are designed to replicate human teeth. These special points are rarely seen on other expensive juicers on the market. They are quite outstanding to take out the very last drop of juice from dense fruits like carrots.
The gears also have sharp cutting points that become extremely useful when processing lean vegetables like celery. While doing this they keep the juicer from any clog or tangles, which is a big plus.
6. Quality Of Juice
Thanks to the exclusive twin-gear technology, every time you start with Tribest GSE 5000 you are guaranteed to end up with a very nutrient-rich palatable juice on your counter.
Since the motor runs at 110 RPM only, those ant-oxidants and vitamins will undergo little to no heat. This in turn means oxidation will be delayed significantly and the quality of your juice will last longer (72 hours shelf-life) than you expect.
However, just as any electric juicer, you might see some pulp or foam in it. And that's where the included stainless steel juicing strainer comes handy. Just place it on the collection cup if you don't like any pulp and foam in your drink.
7. Quantity Of Juice
Tribest Greenstar Elite series are extremely popular among juicing enthusiast, and one thing that gets it there is that it extracts an awful lot from what it receives. Again, the powerful stainless steel dual-gears should take the credit here.
At the same time, it also allows the juicer to grind leafy vegetables more effectively than most juicers in its category. Just make sure to store your juice in mason jars, and you can make large quantities for consumption later in the day without issues.
8. Motor Capacity
We have already mentioned that Tribest GSE 5000 excels at juicing harder produce. In particular, the power comes from a 200W motor, which is one-of-a-kind if not the biggest in the market.
9. Unprecedented Versatility
Greenstar Elite is one of the most versatile juicers available to date. It comes with four different accessories (screens) allowing you to turn this juicer into a top-notch food processor. With the included homogenizing blank and mochi attachment you can easily take your food adventure to next level.
If you wish, you can also convert this into a pasta maker buying a separate past nozzle. Here is a small list of delicious foods that you can make with the juicer for your family:
Nut butter
Sorbets
Rice cakes
Breadsticks (mochi)
Dessert
Sauces
Pasta, etc.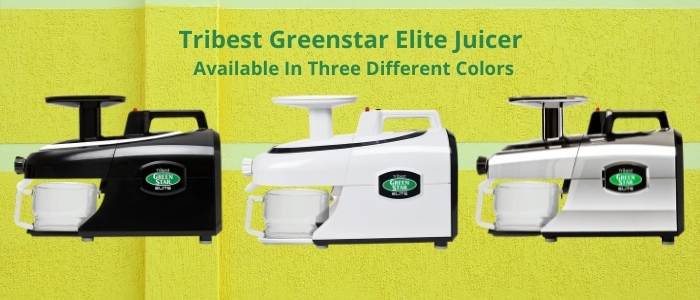 Frequently Asked Questions
Q1. Is Tribest Greenstar Elite 5000 Easy to Use?
Tribest Green Star Elite GSE 5000 juicer is designed to ease user experience as much as possible. It comes with a glass pitcher instead of plastic so that you can drink your juice right away.
The pitcher fits perfectly under the outlet. You can also place the included drip tray underneath the pitcher and avoid mess on your kitchen counter.
On the downside, the feeding chute is a bit narrower, so you'll need to cut larger items into smaller ones before you begin juicing. However, you won't have to prepare leafy vegetables as finely as you would otherwise for most masticating juicers.
Thanks to the efficient twin gears Tribest Greenstar Elite Juicers come with. A wood plunger will also assist you in the process.
The juicing screen is outstanding with more spaces in it. Therefore, clogging will be less of an issue for Tribest Green Star Elite juicer. If that happens anyway, you have a reverse function to use to restore the system quickly and efficiently.
The juicer offers some nice touches as well making it easier to set up. It uses simple lever latches to held its components together. As a result, you will not run into any difficulties when disassembling the juicer whatsoever.
That being said, you must maintain caution when assembling the twin gear to avoid damages. Make sure the dots are lined up properly with one another. If you do it correctly it will almost look like a tringle before you put them back into the juicer.
Q2. Is Tribest Greenstar Elite 5000 Easy to Clean?
Disassembling the Tribest GSE-5000 Greenstar Elite Juicer isn't a difficult thing to do. As far as cleaning is concerned, you won't be much disappointed either. The O-ring on gear housing will limit juice leakage significantly. So, there will be less of a mess to deal with.
All the detachable parts are dishwasher safe. However, in this case, you might be better off washing them by hand using hot soapy water. This shouldn't take more than five minutes to accomplish.
Apart from this, you will be given two cleaning brushes to help you scrub the pulp off the juicing screen and from other parts if needed. Also, don't forget to wipe the base with a rag, and let the juicer dry.
Q3. Tribest Vs Omega Juicer: What Is the Difference Between These Two?
Juice extraction:
Tribest's three-stage mastication is far superior to dual-stage extraction in Omega juicers especially if you want the highest nutritional juice from your fruits. However, when it comes to juicing leafy greens, Omega's single auger tends to perform slightly better with a more consistent squeeze (80 RPM compared to 110 in Tribest).
Feed chute:
Omega's (2-inch) is a little wider than Tribest's 1.5-inch.
Pressure adjusters:
Instead of one pressure adjusting dial, Tribest GreenStar has two interactive spring-loaded knobs (one for dense fruits, one for softer produce) on the outlet so that the tension gets build up to a much stronger level. The result is much drier pulp in Tribest.
Warranty & Price:
Omega offers 15 years warranty, which is 3 years more than what you get from Tribest. Again, Omega's masticating juicers are much cheaper than Tribest GSE-5000 ($300 compared to $519).
Verdict:
Tribest juicer is a bit complicated than Omega in terms of design and cleaning. It requires a learning curve before you can excel at juicing with this extractor. So, if it's your first masticating juicer, Omega (NC800HDS) would be a better choice.
However, if you want the best quality juice and better value from your investment there is no competition for Tribest GreenStar Elite Juicer.
Q3. Tribest Vs Super Angel Juicer: Which One Should I Buy?
Structure:
Super Angel juicer along with its all-steel construction has fewer parts, meaning it will be much easier to clean and several times more durable than Tribest's plastic material.
Juicing efficiency:
Unlike Tribest GreenStar, Super Angel juicer doesn't have separate juicing screens, or simply doesn't need to. Its all-in-one juicing screen can tackle anything regardless of the type of produce. If you only juice several fruits a day this might not be a big of a deal.
However, if you require to juice a dozen of fruits in a single sitting then changing the screen every now and then will be time consuming.
Price:
This is one aspect where Angel juicer will simply blow your mind. It cuts a whopping $1,100 price, which is two times higher than a Tribest Greenstar juicer. That's a lot of money to invest in a single juicer.
Verdict:
Tribest is best when you need to buy a juicer for your day-to-day home use. If you need one for commercial purpose then the extra money of Angel juicers will be worth spending.
Should You Buy the Tribest GSE-5000 Greenstar Elite Juicer?
Arguably Tribest Green Star Elite GSE 5000 is the best juicer on the market for home use right now. It features the latest innovation in juicers which helps justify why it is more expensive than its competitors.
If you are committed to drinking raw juice with maximum yield and quality from your produce, Tribest GSE-5000 Greenstar Elite will be an excellent investment. Moreover, if you want to upgrade your current cold press juicer to one that will last for more than a decade, look no further.
Tribest GSE -5000 is a heavy-duty, top-of-the-line juice extractor that can handle virtually any juicing request. Yes, it's expensive, but in the long run, it will compensate more than its price.